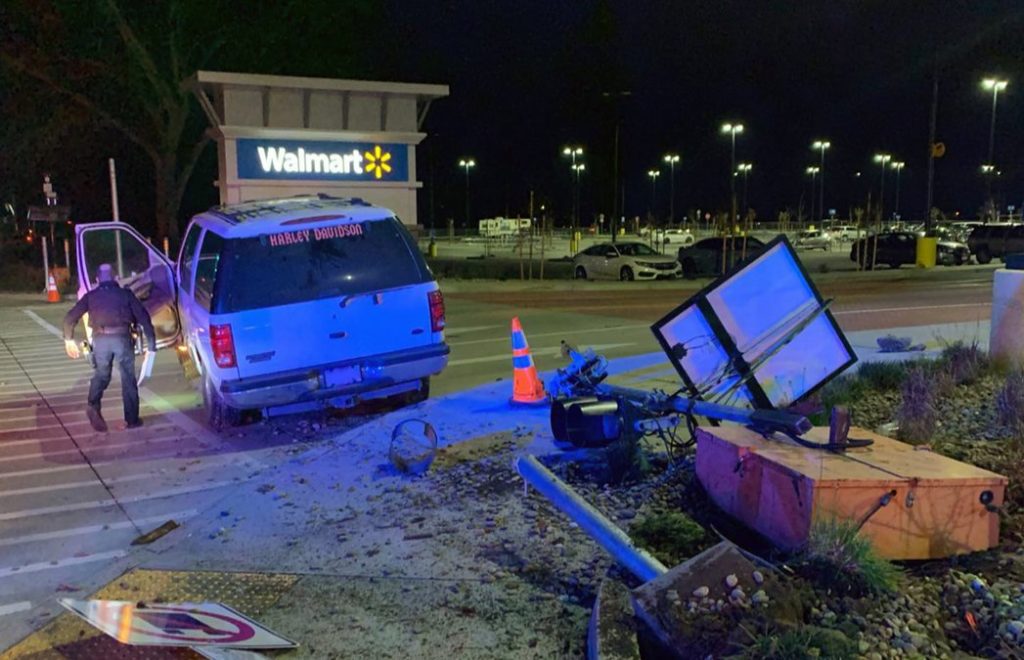 One of the temporary traffic signals posted at the entrance to the new Walmart Supercenter was destroyed by an allegedly drugged driver on Sunday evening, Dec. 28.
Ceres Police received multiple calls at 8:25 p.m. regarding a white Ford SUV being driven erratically, swerving, driving slow and stopping at green traffic lights. Officer Aaron Pinon was able to catch up to the vehicle as it was southbound on Mitchell Road from Don Pedro Road. As the patrol officer was nearing the white Ford SUV and before he could activate his overhead emergency lights to stop the vehicle, the Explorer veered to the right and collided with multiple objects, including the temporary traffic signal, before coming to rest at the entrance to the new store.
Driver Kevin Myers, 36, of Turlock, sustained injuries which required medical attention at a local hospital.
Due to his medical condition, Myers was released for treatment.  Charges of driving under the influence are being are being sought against Myers by the Stanislaus County District Attorney's Office. 
Continue Reading on The Ceres Courier